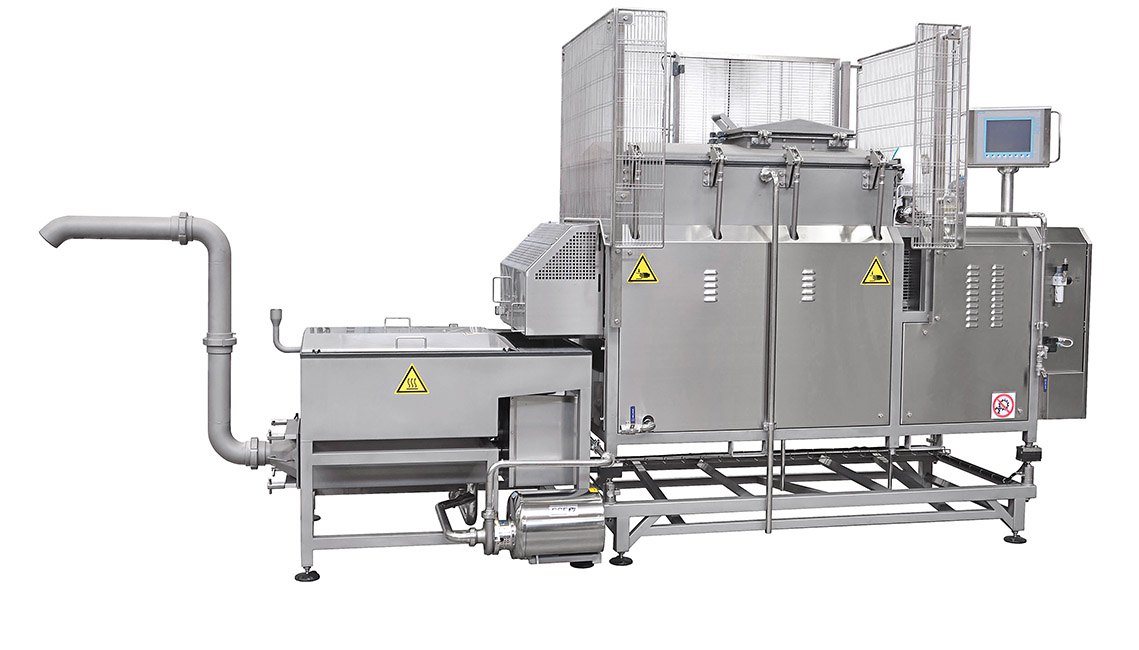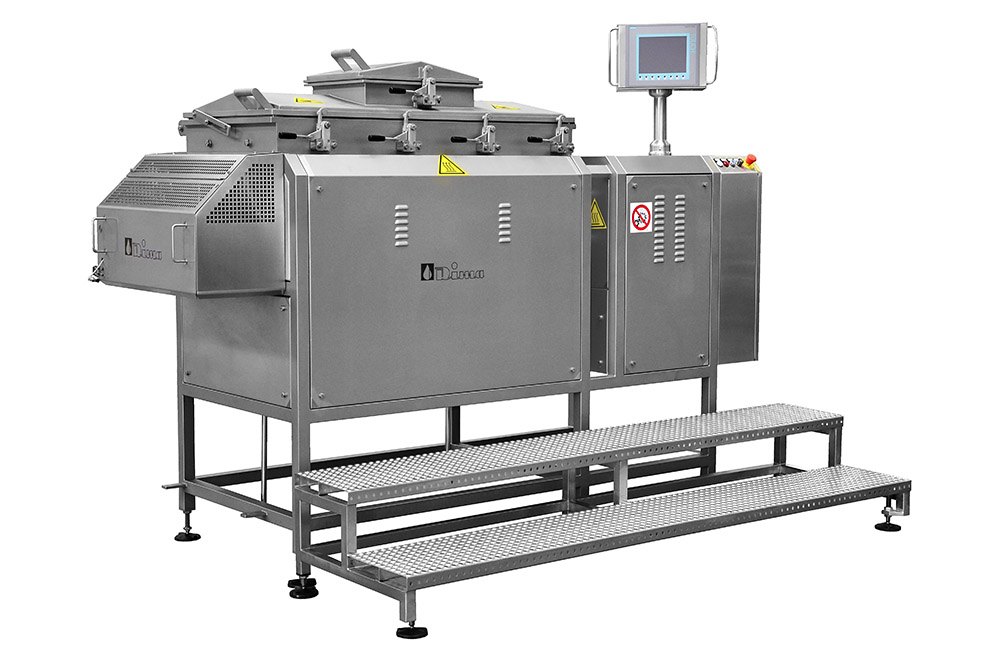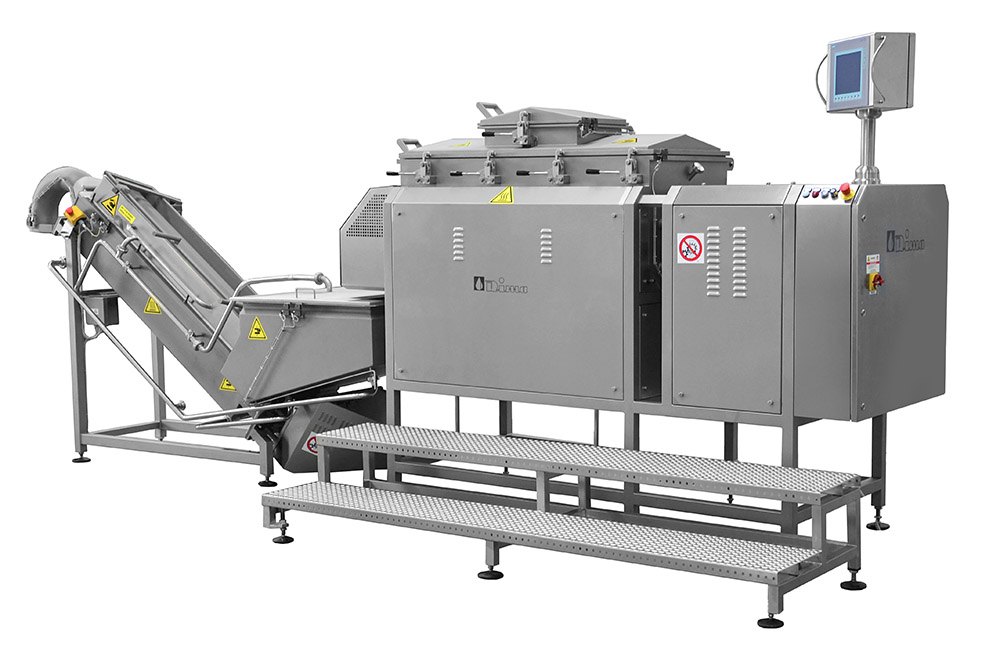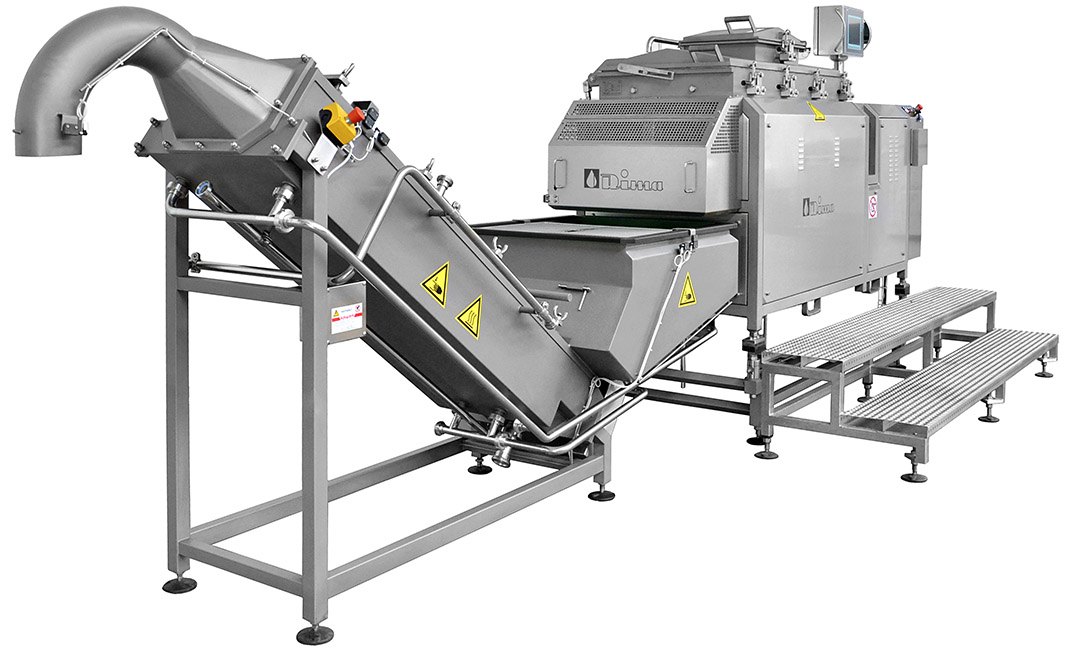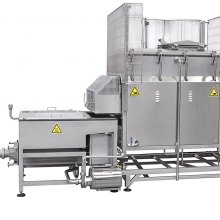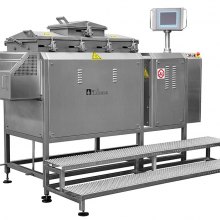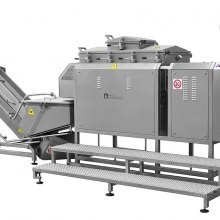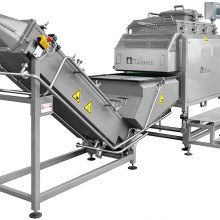 STEAM COOKER, STRETCHER & MELTER MOD. DM18/350
Production capacity:
from 500 Kg to 1.000 Kg/h
Batch steam cooker, stretcher and melter specially designed and manufactured for cooking, kneading, melting and stretching of all types of pasta filata (mozzarella, pizza-cheese, shredded mozzarella, kashkaval, string-cheese, kasar, provolone …), analogue cheeses and food preparations.
Its compact design & robust construction make it the perfect solution for medium and big size dairies.
The machine is equipped with counter-rotating & independent two augers allowing to process fresh curd, frozen industrial curd (cagliata), vegetable curd (veg curd - caglina) and / or food ingredients and powders.
The mechanical action of the counter-rotating & independent two augers combined with the steam heating (direct and indirect) offer many advantages in the cheese production process permitting to reach high quality product and improve the yield.
The machine is prearranged for automatic C.I.P. cleaning and includes the automatic control PLC (as standard supply).
Features
Easy use and operation
Batch working
Steam cooking stretching & melting machine
Direct steam injection through the steam injectors
Indirect steam heating of the cheese mass
Adjustable speed of the stretching and kneading augers
Jacketed vat, fully insulated
C.I.P. cleaning prearranged and perfectly cleanable
Independent control of the direction of rotation of each auger and independent control of the rotational speed of each auger in order to control in the best possible way the product mixing, kneading & stretching of the cheese / product mass that becomes rich of fibers, homogeneous and very stretchy
Product and ingredients inlet opening
Additional inlet opening for production inspection and/or adding ingredients
No need of prior cutting or slicing of the curd / cagliata
Adjustable work time of each batch
Temperature probe
Automatic control of the temperature
Product discharge / outlet with pneumatically operated door
Equipped with frequency converters (one for each auger) which make the operation extremely simple. Speed regulation done via push buttons located on ‎the control panel
Optional features
Curd accumulating and weighing for automatic feeding of the curd to the steam cooker
Automatic opening / closing of the product inlet of the batch  cooker
Automatic water dosing system
Automatic ingredients weighing system
Steam filter (single or double)
Local stand-alone C.I.P. cleaning system
Construction in stainless steel AISI 316.
Storage & stretching cheese inclined conveyor, mod. SP32/350
Storage & stretching cheese-extruding conveyor, mod. SP22/350